If you enjoy making your own cosmetics, you're going to love this super easy homemade powder foundation recipe! Made entirely out of natural and organic ingredients, this homemade powder foundation recipe can be customized to fit any skin tone from light to dark. Even better, this homemade foundation won't clog pores, is suitable for sensitive skin, doesn't contain any harsh ingredients or preservatives.
Please note that this foundation is best suited for light to medium coverage, and those seeking heavy coverage may not benefit from this particular recipe.
Homemade Powder Foundation Recipe – A DIY Guide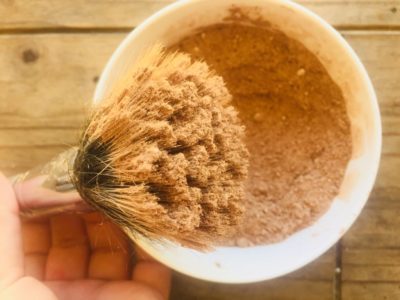 You'll Need:
1/4 cup arrowroot powder
4 tbsp cocoa powder
2 tbsp bentonite clay
10-20 drops of your favorite essential oil such as lavender or tea tree oil (great for oily/acne prone skin)
Arrowroot Powder
Arrowroot powder is the base for this recipe, and it helps the other ingredients penetrate into the skin as well as retain moisture. When applied to the skin, arrowroot also has the ability to heal cuts, scrapes, sores, and burns, as well as leaving the skin feeling silky smooth! Arrowroot powder also acts as a thickening agent which will help with staying power.
Cocoa Powder
Cocoa powder has long been used to fight signs of aging since it's packed full of antioxidants. It fights free radicals and also helps to detoxify the skin. In this recipe, cocoa powder is used to control the color of the foundation, so depending on your skin tone, you may want to add more cocoa powder or less!
Bentonite Clay
Bentonite clay is the holy grail of beauty products in that it heals the skin, is great for those with oily and/or acne prone skin, and removes toxins and impurities. Packed full of minerals, bentonite clay helps control oil, reduces breakouts, and also reduces the appearance of fine lines.
Essential Oils
For this recipe, the essential oils are optional, but if you're looking to treat a certain skin ailment, or you just want your foundation to have a nice scent, we recommend you use them! Add in lavender or peppermint for a scent, or use tea tree oil for oily and acne prone skin. Those with aging skin can use a mixture of geranium, sandalwood, lavender, and frankincense to reduce the appearance of fine lines and wrinkles.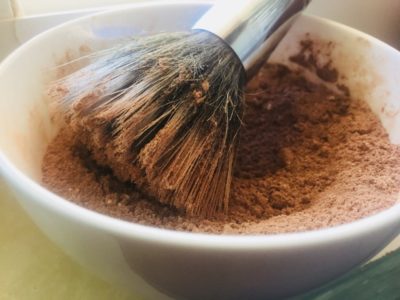 Directions:
Mix all of your dry ingredients first.
If you feel that the shade is too dark for you, add in some more arrowroot powder.
If you feel that the shade is too light, add in some more cocoa.
Then, stir in your essential oil, if using.
Transfer the powder into a clean, airtight container.
Like this post? Share and Pin 🙂