Looking for a more natural and organic foundation than the one in stores? Look no further, because today we'll show you how to make your own foundation using a simple and all natural recipe! Store bought foundations are often chock-full of fragrances that can irritate the skin, alcohols which can dry it out, and other chemicals, which, over time can do more harm than good! This homemade foundation is super easy to make and can be customized to your own skin tone! Oh, and did we mention that it's also got amazing coverage AND good for your skin? Keep reading below to find out how to make your own foundation!
How to Make Your Own Foundation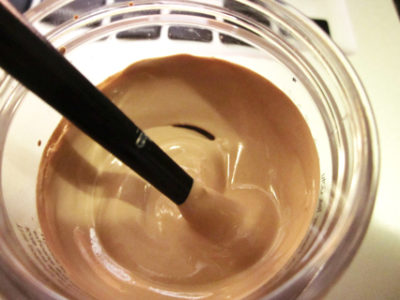 This particular recipe is for a liquid foundation, but if you're looking for a powder foundation, check out this DIY mineral foundation recipe!
We've found THE perfect liquid foundation (after scouring and trying for months!), and we're happy to say that we've found the perfect balance – not grainy, but smooth, not lotiony, with great coverage!
You can go about with this recipe in 2 ways: the simple way or the more homemade way:
The simple way requires you to use a pre-made moisturizer for the base with colors and pigments as needed.
The homemade way will require more ingredients but will be a lot more customizable to your skin tone (recommended!).
You'll Need:
2 tsp argan oil or jojoba oil
1 tsp shea butter
1/2 tsp emulsifying wax
1 tbsp aloe
1 tsp witch hazel
OR 3 tbsp of a pre-made lotion (this is to replace the 5 ingredient above!).
1-4 tsp non-nano zinc oxide
1/4-1/2 tsp cocoa powder
1-2 tsp mica powder of your choice
1/2 tsp clay of choice
OR 2-3 tsps mineral powder of your choice (to replace zinc oxide,cocoa powder, mica, and clay).
Directions:
If you're making the simple version, simply mix the pre-made lotion with the mineral powder of your choice until you get your perfect color.
For the DIY Version:
In a double boiler, melt the argan oil, shea butter, and emulsifying wax until completely melted.
Add in the aloe and witch hazel and stir until smooth.
Remove from heat and slowly start to add colors. Start with zinc and clays until desired coverage is reached.
Add mica and cocoa powders a tiny bit at a time until the desired color is reached.
Remember to only add a little at a time, because you can always add more, but you can't take any away!
Test to color on your forearm, and, once satisfied, let the mixture cool.
Once cool, scoop into a clean, airtight jar or old makeup container!
Like this post? Share and Pin 🙂