An easy and cheap DIY purple shampoo + DIY purple toner that will remove brassy tones, yellow tones, and give blonde hair a new lease on life! Whether you're a natural blonde or a dyed blonde, you know how hard it can be to keep that brassiness away, and so, purple shampoo has sort of become your best friend! Purple shampoo is actually a toner for blonde hair which removes yellow tones, brassy tones, and orange tones, giving hair color a cooler, more vibrant tone. Depending on your hair color, you may use purple shampoo or toner once a week, once a month, or even several times a week!
But have you ever wondered if you can make your own purple shampoo or purple toner? The answer is YES, you most certainly can! For those with long, thick locks that use purple shampoo or toner on the regular, it can get quite expensive, and so this DIY purple toner recipe can really come in handy! Perfect for blonde color hair, dirty blonde, strawberry blonde, bleached blonde, platinum blonde, orange, or really any shade shades of blonde! Those with brown hair should not use purple shampoo as it is meant for blonde shades only.
DIY Purple Shampoo + DIY Purple Toner Recipe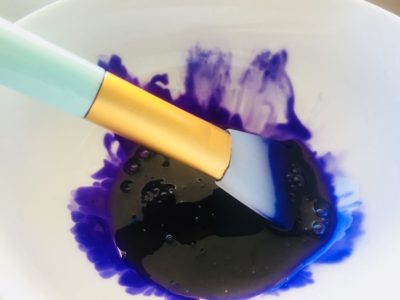 Before you go ahead and make your own purple shampoo, there are a couple of things you should consider:
Making your own purple shampoo CAN be a little tricky because it may not come out the same every time (i.e. consistency). A store bought shampoo or toner will be the same time and time again, but when you're making your own, it can vary.
You can customize your purple shampoo! Whereas, a store bought purple shampoo is made for ALL blondes, making your own can be just that: your own! With this recipe, you can customize the shade from a lighter purple to a darker purple, depending on your hair color and which color you ultimately want to achieve.
You'll Need:
A moisturizing shampoo and/or moisturizing conditioner of your choice. These don't have to be expensive, just as long as they are white in color.
Gentian violet dye, which is a semi-permanent and peroxide-free hair color OR a really good quality food coloring such as Betty Crocker in a violet shade.
A bowl and a plastic spoon.
A funnel.
An empty bottle.
Directions:
Empty the shampoo/conditioner into the bowl (you can also just use half a bottle to start off with) and add 2-3 drops of the violet dye or food coloring.
Stir very well, and add more if you feel the purple isn't deep enough for you.
If your hair color is very yellow or orange, you may need to add another drop or two.
Use a funnel to pour the purple shampoo into a bottle and use as you would any other purple shampoo.
How to Use:
While in the shower, apply a a good sized (depending on the length and thickness of your hair) amount of the purple shampoo or purple toner onto wet hair. Massage into wet hair in slow, circular motions as if you were using regular shampoo.
Let the purple shampoo sit in your hair for at least 5 minutes. In the meantime, you can wash your body, exfoliate, or shave your legs! Check out some of our favorite homemade body scrubs!
Wash your hair and follow up with your favorite conditioner. Can be used as often as needed until you reach your desired blonde shade.
NOTES:
Although the purple shampoo looks more blue than purple in the picture (above), it IS actually purple, it's just how the picture came out!
Also, I like my purple shampoo a dark purple, but yours may be a lot lighter!
If your hair is super porous, it may absorb some of the purple and leave your strands with hints of violet tones. Not to worry, this can happen from time to time. Simply hop back in the shower, and give your hair a good wash using a regular shampoo.
Looking for a good quality purple shampoo? Check out what our forum community is talking about!