When you wake up, your skin needs to be cleansed no matter what. If you want beautiful, healthy skin there are steps you need to take in order to make that happen.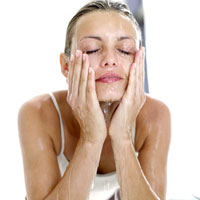 De-Puff Your Eyes To alleviate swelling, place a cold compress on your eyes for 5-10 minutes, then pat on an eye cream or gel that's been stored in the fridge. If your eyes are red, break out the Rohto V eyedrops (only $7!) before putting in your contacts. They whiten your eyes instantly and feel great.
Treat Your Skin Gently Skin can be sensitive, especially after a late night, so avoid exfoliators, toners, and astringents. Instead, use a gentle cleanser and soothing lotion. Try a lotion that contains chamomile, an anti-inflammatory.
Refuel and Reenergize It's very important what goes into your body as well. Try not to eat anything fat or greasy after a long night of partying. Instead, try a slice of whole-wheat toast with a boiled egg and some fresh fruit. Eating simple sugars like fructose increases the rate at which alcohol is eliminated from the system.