If you're looking for bright, glowing skin, look no further than this turmeric body scrub! Made entirely with natural ingredients, this DIY turmeric scrub will slough off dead skin cells and leave skin bright and glowing after only the first scrub!
Made with turmeric, sugar, and coconut oil, this super simple turmeric body scrub is easy to make and will scrub, hydrate, and fix uneven skin tone. You've no doubt used turmeric on the skin before, and you know just how amazing of an ingredient it is, especially for those with scars and dark spots!
Turmeric Body Scrub Recipe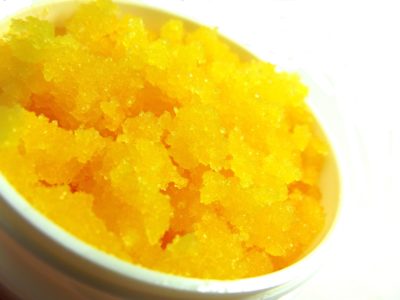 Ingredients:
2 cups sugar
4 tbsp turmeric powder (try to get a good quality, organic turmeric)
coconut oil
Why This Turmeric Scrub Works:
Sugar is a gentle and very effective exfoliant. It will remove dead skin cells, leaving skin soft, and able to absorb other ingredients. If you don't regularly remove dead skin cells, they will accumulate onto the skin, making it very hard for your skin to absorb any product. Additionally, skin cell build up can also lead to excess oil and acne.
Turmeric is a natural antioxidant as well as a natural bleaching agent, making it a great ingredient for those with acne scars and dark spots. Using turmeric on a regular basis will give your skin an amazing glow! Also contains anti-inflammatory and anti-bacterial properties. It can help reduce redness, inflammation, and other skin conditions such as rosacea and eczema.
Coconut oil is the hydrating ingredient in this recipe. It will deeply penetrate the skin to moisturize and protect the skin. Coconut oil is also great for those with aging skin as it can erase fine lies, crows feet, and wrinkles in general.
Directions:
In a large bowl, add sugar and turmeric and mix until well blended.
Add enough coconut oil until the consistency becomes a the texture of a scrub.
Scoop into a clean, airtight jar or container and use in the shower like you would any scrub!
This turmeric body scrub should last you for about a couple of months!
Benefits of Turmeric Body Scrub:
Sloughs off dead skin cells
Exfoliates
Leaves skin super smooth and soft
Fixes uneven skin tone
Helps with cellulite
Smooths out imperfections
Prevents acne and blemishes
Erases scars and dark spots
Brightens dull skin
Use twice a week in the shower, by scrubbing in slow, circular motions. If you've got the time, leave the scrub on for about 10 minutes. Pay special attention to rough spots such as feet, elbows, knees, and shoulders.
If you like this post, don't forget to share 🙂