Beautiful, flawless skin doesn't just happen overnight. It takes work, perseverance, and most of all, patience. Here are 7 ways to get a beautiful complexion…keep these up and within a few weeks you'll have amazing skin.
7 Ways to Get a Beautiful Complexion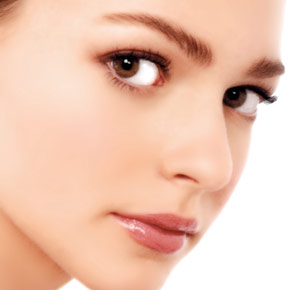 #1. Cleanse Morning and Night
One of the most important steps in skin care is to cleanse your skin every single morning and every single night before bed. If you fall asleep with your makeup on, you're basically giving bacteria a perfect breeding ground and you'll wake up with some unwanted pimples.
#2. Know Your Skin Type
Whether your skin is dry, oily, or combination, you need to get the right products for your skin type. So if you have oily skin for example, make sure that your cleansers, toners, and moisturizers are designed for oily skin. Also, make sure your foundation matches up with your skin tone. Again, if you have oily skin you should stay away from heavy, cakey foundations and instead go with minerals.
#3. Exfoliate
Exfoliating gets rid of dead skin cells that can accumulate on your skin. This is important not only for your complexion but the rest of your body as well. Your skin cannot absorb creams and lotions if it has a layer of dead skin cells hanging around. Get a good, gentle exfoliator that you can use 2-3 times a week. Wet your face, and exfoliate very gently. If you're too rough on your skin, you'll just end up breaking the soft tissue and that's when bacteria starts harboring.
#4. Drink Plenty of Water
Keeping a healthy diet is one of the most important things when it comes to skin. So if you want a beautiful, glowing complexion it's important that you consume at least 8 glasses of water a day. Oh and, no smoking! Smoking is not only horrible for your skin, but also for your hair, and well…pretty much everything else!
#5. Let Your Skin Breathe
If you must wear a concealer and foundation every day, make sure you remove it as soon as you get home. The longer you wear foundation, the more you clog your pores so if you don't need to wear it, don't! If you do, just make sure you give your skin a breather and go without any foundation or concealer whenever you're at home.
#6. Take Vitamins
I'm not much for taking pills, but vitamins are very important and there's just no way we can get all of required our vitamins and minerals in one day. To get beautiful skin make sure you take vitamins A, C, D, and E daily. An easier alternative would be to just take a daily multivitamin to help ensure you're getting all of the nutrients your skin and body needs.
#7. Pamper Your Skin
Find time once a week to pamper your skin from head to toe. Exfoliate, moisturizer, and prepare an all-natural mask. This avocado and carrot cream mask is one of my favorites not only because it's all natural but because it actually works. The avocado combined with the carrots leaves your skin feeling soft, fresh, and young again, so don't forget to take some time out for yourself in indulge a little!