Want to lighten your hair, get amazing highlights or a pretty ombre at home but have no idea how? Yes, you came to the right place! Today we will be discussing all about how to lighten hair with hydrogen peroxide and baking soda at home.
Before you dive in, please take note that this will only work for those who already have blonde hair. If you have dark hair, using hydrogen peroxide to lighten your hair will not work, and could cause damage. Additionally, hydrogen peroxide can also strip the hair of its natural oils, so make sure to really condition your hair on a regular basis. Bleaching hair with hydrogen peroxide is actually not much different than a regular hair coloring process. You can choose to bleach just a few strands of hair, or you can go ahead and dye all of it. When you bleach hair with baking soda and hydrogen peroxide, your hair should get several shades lighter. So how to lighten hair with peroxide?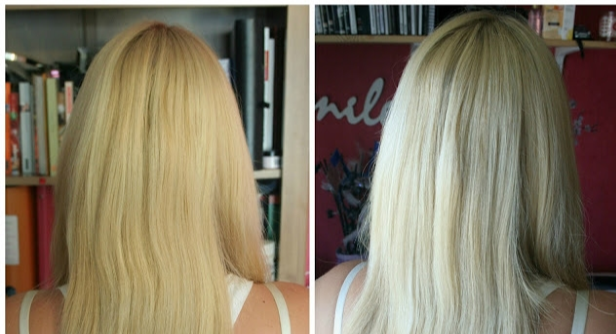 When it comes to using hydrogen peroxide in your hair or overall, you will need to learn a few things before trying it. Generally, it's safe to use hydrogen peroxide but if you are not careful enough, it can cause some damage like eye, skin and lung irritation. It's important to know what type of hydrogen peroxide is safe to use at home and the best one for your hair.
Types of Hydrogen Peroxide
Hydrogen peroxide (H2O2) is a liquid and colorless chemical. H2O2 is a combination of oxygen and hydrogen, which you can usually find in many strengths specified in their percentage of dilution with water. The regular dilutions come as follows:
3% H2O2: this is the most used in households and it's available in most drugstores and supermarkets. This type of hydrogen peroxide is recommended to lighten your hair at home since its light and won't cause any damage.
6 to 10% H2O2: this percentage of peroxide is used in hair dyes and in salons due to their high percentage, and is only recommended to use by a professional.
90 % H2O2: This hydrogen peroxide is only used for industrial purposes.
How to Lighten Hair With Hydrogen Peroxide at Home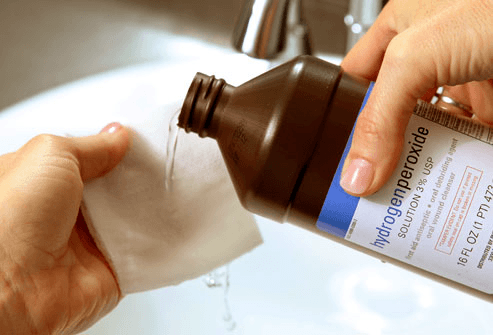 1. Make Your Hydrogen Peroxide and Baking Soda Mix
Baking soda? You might be wondering why this mix. While you can use the hydrogen peroxide by itself, it's even better when you mix it with baking soda. Bleach hair with baking soda and hydrogen peroxide to achieve maximum hair lightening.
Baking soda is an alkaline, that when mixed with hydrogen peroxide, helps break down the melanin in the hair and opens the cuticle to allow the hydrogen peroxide to get into the hair easily. You can also add some olive oil which will help to keep your hair from drying.
H2O2 and Baking Soda Dye Mix:
You'll need:
3% Hydrogen Peroxide
Baking Soda
Olive oil (optional)
Instructions:
Mix the ingredients in a plastic container.
Try to use more baking soda than hydrogen peroxide to make it more like a paste. You need a paste-like consistency so it's not runny.
Apply to a small section first, and let sit for several minutes. If you like how the color has developed, continue adding to the rest of the hair or just to a few strands.
Let it sit for 10 minutes or longer. Keep checking to see how much the hair has lightened.
For some, it may take 10 minutes (if you have thin, porous hair or lighter hair), while for others, it may take as long as 30 minutes.
Rinse out of the hydrogen peroxide and baking soda mix.
Follow up with a deep conditioner.
2. Lighten your Entire Hair With Hydrogen Peroxide
You'll need:
hydrogen peroxide and baking soda
Gloves
Shower cap
Brush
Instructions:
Before applying the hydrogen peroxide mix in your hair, it's best if you wash your hair and condition. Conditioning will help maintain your hair from drying out as hydrogen peroxide can dry the hair.
Let your hair air dry and then section your hair to make the process easier.
Using a brush gently apply the mix to your hair making sure to saturate well.
Use a hairdryer in the lowest setting for 10 minutes to help speed the process.
Cover your head with a shower cap.
Leave the paste on for 25 to 40 minutes depending on how light you want your hair to be.
Don't leave it on more than 40 minutes as this can cause irritation.
Rinse your hair, apply conditioner, style as usual, and enjoy the amazing results.
If you are using only hydrogen peroxide, simply pour the liquid into a spray bottle and spray onto your hair. Then follow the same instructions above.
3. Get Highlights with Hydrogen Peroxide at Home
You'll need:
hydrogen peroxide and baking soda
Aluminum foil
Gloves
Brush
Instructions:
Start by sectioning your hair and only letting loose the strands you want to highlight.
Get a piece of aluminum foil under the strands and proceed to apply the hydrogen peroxide mix from roots to tips. Once it's well-saturated, wrap the aluminum around the stands.
Apply heat (optional) using a hairdryer on the lowest setting.
Leave on for 20-40 minutes depending on the color you want to achieve.
Wash off with cold water and then wash your hair as normal.
The aluminum foil will keep the hydrogen peroxide mix from getting into the rest of the hair.
If you are using only hydrogen peroxide, use a cotton ball to apply the liquid onto your hair and follow the same instructions.
4. Bleaching Hair With Hydrogen Peroxide to get an Ombré Effect
You'll Need:
hydrogen peroxide and baking soda
Gloves
Brush
Instructions:
Part your hair in 4 vertical strands and using a brush, start applying the hydrogen peroxide mix from the tips up.
Start slowly on each strand and stop at a different distance in each strand to avoid an awkward horizontal line look.
Using a hairdryer (optional) apply heat to your hair to help the process.
Leave on for 20-40 minutes and wash off with cold water.
Style as normal.
If you are using hydrogen peroxide alone, use cotton balls to apply and keep following the same instructions.
5. Hydrogen Peroxide Dye After Care
Once you lighten your hair with hydrogen peroxide, there are a few things you have to do in order to keep your hair healthy. Purchase a purple shampoo to control the tones of your highlights.
Cut back on heating tools and try to air dry your hair more often. Heating tools tend to damage hair that has been recently dyed. If using a hairdryer try to do it at its lowest setting.
Try to shampoo less since shampooing too open will only dry your hair more and the hydrogen peroxide already tends to do so. Use more dry shampoo to keep your hair clean.
Condition your hair using a rich conditioner and letting it on for about 15 minutes. You can also do olive oil and mayonnaise treatments to keep your hair soft and shiny.
Extra Tips:
If you want a lighter color try to lighten slowly, in different applications giving your hair time to heal.
Always do a test before applying hydrogen peroxide to your hair. Do this with a small amount of hair you can cover easily.
If you feel insecure doing this by yourself, ask your friend for some help. A great idea for a girls get-together.
Looking for a more natural way to lighten hair? Squirt some lemon juice onto damp hair and lay out in the sun for about 20 minutes. The combination of the lemon juice with the sun will gently lighten hair. Works best for those who have lighter hair already.
Check out more ways to lighten hair at home!
Those with lighter hair should expect quicker and lighter results, while those with darker hair may have to repeat the process a few times.
Keep in mind that everyone has a different hair type. Some hair might be more porous than others, meaning a hydrogen peroxide lightening may work better. Those with thicker hair that may not be as porous, may need several applications.
Not suitable for very dark or black hair.