If you've ever heard of Mario Badescu, you'll know that his face creams are absolutely incredible! For several years now, I've been looking for a good zit zapper that not only worked fast, but also didn't dry up my skin like Benzoyl Peroxide did. I got some free samples from Mario Badescu a few months ago, which included a bunch of good sample-sized cleansers, moisturizers, and this amazing drying cream that I now can't live without it.
Mario Badescu Drying Cream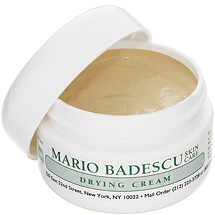 The Mario Badescu drying cream is one of the best acne-fighting creams I have ever used. The Drying Cream is an effective treatment to dry up small under the surface bumps and pimples. Just a few dabs smoothed on the erupted areas prevent pimples from getting larger and spreading out of control. Aloe rich cream conceals and heals erupted pimples.
What I loved about this drying cream is that you can actually wear it underneath your makeup and it also makes for an amazing concealer. I got mine online, but I know there are a few stores in the States as well as in Canada that sell Mario Badescu products. I definitely give this product a two thumbs up and recommend it to anyone suffering from acne, or the occasional breakout.
If you liked this post, don't forget to share 🙂