Last Updated on
If you're a big fan of Lush Cosmetics, then this is definitely for you! If you don't know much about Lush Cosmetics here's a little crash course. It's a cosmetics company that handmakes all natural, vegan products for skin, hair and hair. On every single product, you'll be able to read every single ingredient AND understand it, you'll see who made the product (also comes with a little animated picture of the person), and you'll also see when it was made. It goes without saying that this is one of the best cosmetics companies out there.
But of course, it IS a little pricey as you can imagine. Sure, their stuff smells amazing and there's no better feeling than walking out of a Lush store with some loot, but that's not always possible!
So, instead of buying it, why not make our own? Now, I'll show you how to make your own Lush Cosmetic Warrior Face Mask. It's easy, the ingredients are not hard to find, and best of all – SO.MUCH.CHEAPER. So let's get started!
How to Make Your Own Lush Cosmetic Warrior Face Mask
First, let's look at the original ingredients in the Lush Cosmetic Warrior Face Mask:
Kaolin, Fresh Green Grapes (Vitis vinifera), Fresh Free Range Eggs, Honey, Cornflour (Zea mays), Glycerin, Fresh Garlic (Allium sativum), Tea Tree Oil (Melaleuca alternifolia), Perfume.
As you can see, it's all natural stuff that you can actually pronounce and that you've heard of before.
Things You'll Need:
The recipe that I'm making here will yield about 4-5 uses:
10-12 grapes
3 tsps Multani Mitti or Fuller's Earth. Since kaolin clay is not easily available, Fuller's Earth does the exact same thing
2 cloves of garlic
1 whole egg
1 tsp glycerin
2 tsps cornflour
1 tsp honey
As you can see, you might already have most of the ingredients in your home, except of course for the clay and the glycerin. In any case, you should be able to easily find both of these (especially glycerin), at a health food store, drug store, or of course, the easiest optin: online. You can find Fuller's Earth Clay on Amazon and glycerin on Amazon as well. Ok so let's get to it and make this mask!
Directions:
In a bowl, add the grapes and garlic. Use a hand blender to mash them up. Add the glycerin and blend again. Add the rest of the ingredients to the bowl and blend well again. You can always add a drop or two of essential oil such as tea tree oil, lavender, or mint. The choice is up to you!
Apply the mask directly onto your face and neck and let dry for about 15-20 minutes. Rinse off with lukewarm water and pat dry. Follow up with a moisturizer. You'll want to use this mask once a week only. You can make a fresh batch every time, or do like I did and make enough for a few uses. Just make sure to store the mixture in an airtight container in the refrigerator.
Why This Mask Is Good For You:
This is a miracle mask, especially for acne-prone and oily skin. Its got great detoxifying benefits, getting rid of all the gunk and toxins that reside in your skin. The eggs act as a tightening and softening agent, while the garlic fights acne. The honey, while soothing irritated or sensitive skin, also removes bacteria. The clay is an all-around beauty must have as it makes your skin amazingly radiant. And of course grapes are known to contain the anti-ageing reservatrol which reduce fine lines and wrinkles and prevents them from happening.
So now that you know how to make your own Lush Cosmetic Warrior Face Mask, what are you waiting for? Let's get to it! And don't forget to share this awesome post 🙂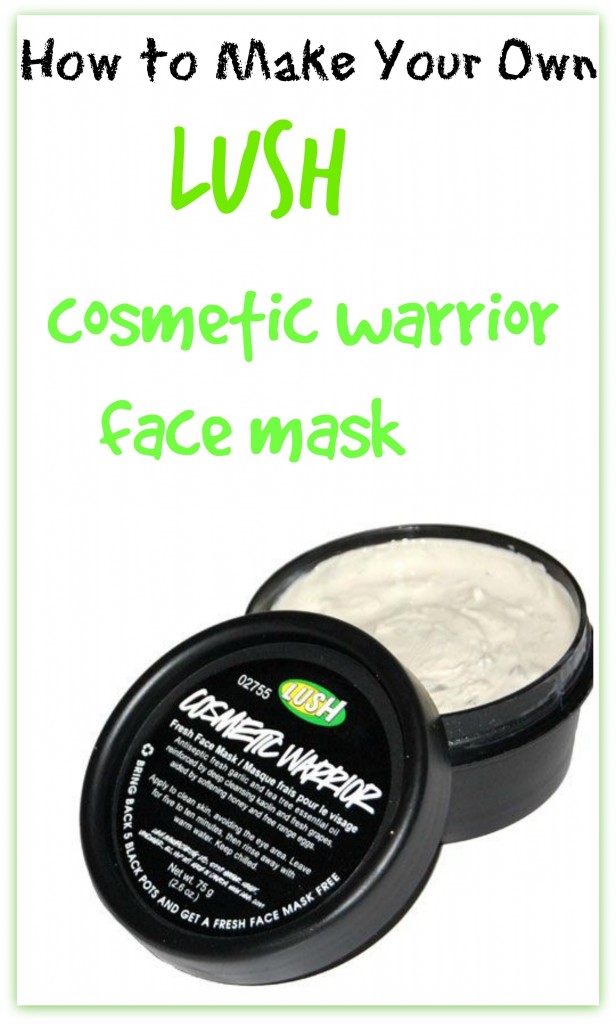 Click here to add a comment
Leave a comment:
---
Latest posts