Mayo in hair? Why not! Mayonnaise is actually one of the most used home ingredients for a hair mask. This is because mayo can help hydrated dry hair and add tons of shine to otherwise dull, lackluster hair. Mayo is made out of olive oil and egg yolks, which are both ingredients that are extremely moisturizing for dry hair. Those with damaged hair can really benefit from this hair treatment when used on a regular basis.
Today we're going to introduce you to a super fun and yummy DIY strawberry hair mask that you're going to fall in love with! This mayonnaise and strawberry hair mask for dry hair only uses two ingredients (mayo & strawberries obvs!), to leave your hair feeling silky soft, hydrated, and shiny. If your hair's been lacking moisture, or your ends are breaking a little faster than usual, a strawberry hair mask might just be the thing you need! This isn't just your regular cup of mayonnaise hair mask – it's an updated version that will add much more shine! Mayonnaise hair masks are plenty, but this one is one of our favorites!
DIY Mayo & Strawberry Hair Mask for Dry Hair
This is a really great quick recipe that anyone can do on the fly! If your hair is lacking is moisture and luster, this recipe can quickly add a ton of shine and hydration. Please note that depending on the length and thickness of your hair, you may need more mayo or strawberries. Adjust accordingly!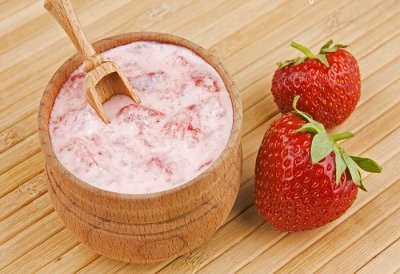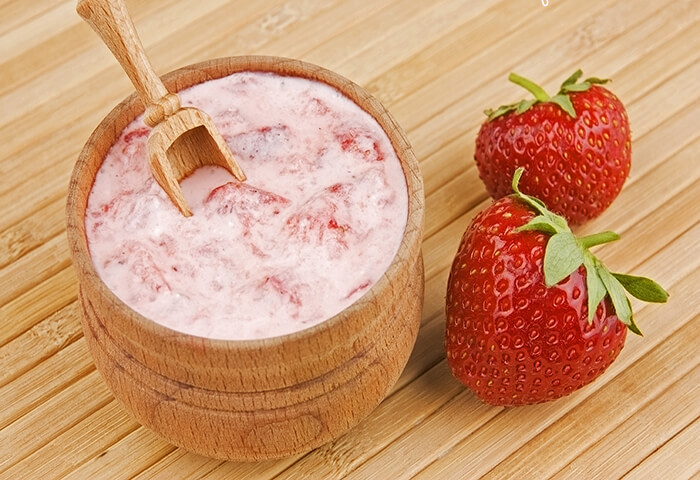 Ingredients:
8-10 strawberries (fresh not frozen)
2 tbsp mayonnaise (full fat mayo, not light) if you don't have mayonnaise, you can substitute for coconut oil
lemon juice (optional)
honey (optional)
Directions:
In a food processor or blender, add your strawberries and mayonnaise.
Blend until a smooth paste forms. Mix in the lemon juice and honey, if using. The mixture should be smooth and very easy to apply.
Apply mask to damp hair starting from roots to tips, making sure to saturate entire head. Massage the scalp very gently to stimulate blood flow. Place a plastic shower cap over your hair to avoid any messes.
Leave on for 20 to 30 minutes, rinse out, and shampoo and condition. Make sure that you're washing your hair out really well – you don't want mayo and strawberry seeds stuck in your hair!
To really maximize this hair mask, deep condition your hair twice a week. Deep conditioning can help seal in moisture, add shine, and leave hair healthy and manageable.
Repeat twice a week for silky, moisturized, and healthy hair, and to prevent dry damaged hair.
Benefits of Mayo & Strawberry Hair Mask:
The strawberries gently exfoliate the scalp, getting rid of dead skin cells and therefore encouraging healthy and faster hair growth.
Mayonnaise penetrates hair follicles and hair shaft to deeply hydrate dry, parched strands.
Hair will feel lightweight, bouncy, shiny, and super hydrated.
Hair will be healthy, manageable, and soft.
Great for all hair types including dry hair, oily hair, natural hair, and dyed hair.
Prevents the formation of dandruff and dry itchy scalp.
Encourages faster and healthier hair growth by promoting a healthy scalp and strengthening hair strands.
Helps to detangle knotted, unruly hair.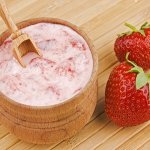 Print Recipe
Mayo & Strawberry Hair Mask
A quick and easy mayo & strawberry hair mask that targets dry strands and lackluster hair.
Ingredients
8-10

fresh strawberries

2

tbsp

mayonnaise
Instructions
In a food processor or blender, add your strawberries and mayonnaise.

Pulse until a smooth paste forms.

Apply the mixture to damp hair, making sure to cover entire head.

Leave on for 20 to 30 minutes and rinse out well.

Shampoo and condition as usual.
Video