For those of you who suffer from dry skin, this DIY hydrating face mask with avocado & yogurt will hydrate and moisturize even the driest of skin. Dry skin can be attributed from a multitude of things including the environment and your genes. Some people are simply pre-disposed to dry skin, while other suffer from it due to a dry or cold climate. Whatever the reasons though, this DIY hydrating face mask penetrates the skin deeply to nourish, moisturize, and keep skin soft and supple. Use this mask twice or three times a week to plump skin, moisturize it, and say goodbye to dry skin forever!
DIY Hydrating Face Mask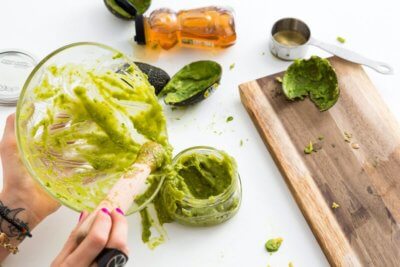 You'll Need:
1 tsp organic, natural yogurt
1 tsp olive oil
1/4 cup avocado
Directions:
In a small bowl, add the yogurt and olive oil.
Mash some avocado until smooth or place all ingredients in a food processor or blender and mix until a smooth paste forms.
Apply the mask to clean skin, making sure to cover entire face and neck.
Lay back, relax, and leave on for 20 minutes.
Rinse off and pat dry.
Follow up with this DIY vitamin E cream to fight dryness.
Benefits of DIY Hydrating Face Mask
Yogurt is a natural cleanser, anti-septic, and exfoliant that will very gently slough off dead skin cells as well as plump skin and hydrate. Yogurt is the perfect ingredient for those with dry, sensitive skin.
Olive oil is packed full of omega fatty acids which penetrates the skin deeply to nourish dry, cracked skin.
Avocado is a natural moisturizer that's also packed with fatty acids to moisturize and hydrate.
If you like this post, don't forget to share 🙂