Here are  17 pink nail designs you'll want to copy immediately! These pink nail designs are SO uber cute, we've had everyone try to replicate every single one of these looks – let's just say we feel in pink love! Ranging from super light pink to hot pink, these pink nail ideas will be the envy of every nail art lover! Whether you have short nails or long nails, these designs will work on all nail types. Check out these designs and choose one you'd like to replicate! And hey, if you're not the best at doing your own nails, take the picture to your local nail salon and have them do it – salons love it when people bring in new and fresh ideas.
Valentine's Day is also coming up, and ALL of these nail design ideas would work perfectly! Which design would you choose? I especially love the pink and glitter ones, because an accent nail always makes a manicure that much more intriguing! When copying any one of these designs, make sure to put your own spin on it! Like black sparkles? Use those instead of confetti sparkles! Because after all, the most important thing to remember here is that YOU like them!
17 Pink Nail Designs
#1. Pink and White Nails
These pink and silver nails are perfect for a night out and can be rocked all year long! The added silver rhinestones puts this pink nail design over the top! Use tap on the accent nail to separate the pink color from the silver color.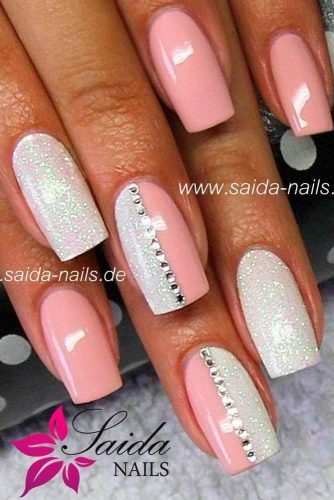 #2. Pink Chevron Nails
Chevron nails have a huge following, and for good reason too! This pink nail design is easy to copy – just use thin tape to create the chevron pattern, and get creative with the colors!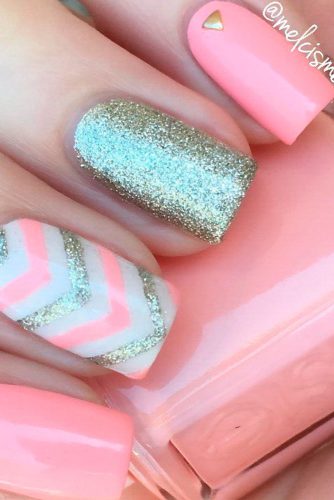 #3. Pink Glitter Nails
Pink and glitter go hand in hand, and these pink nail designs are no exception! This shade of pink is perfect for a wedding or any occasion really, and the added raised dots puts this nail design over the top!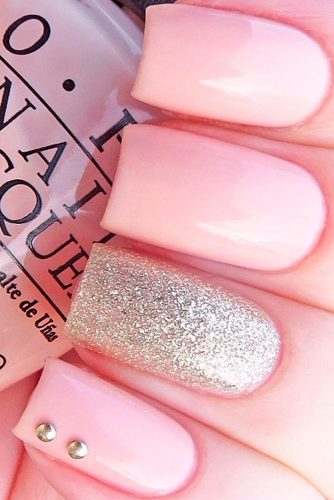 #4. Light Pink Glitter Nails
This pink and gold nail design is super glamorous and will be the envy of everyone! The gold glitter really gives this pink manicure something to talk about!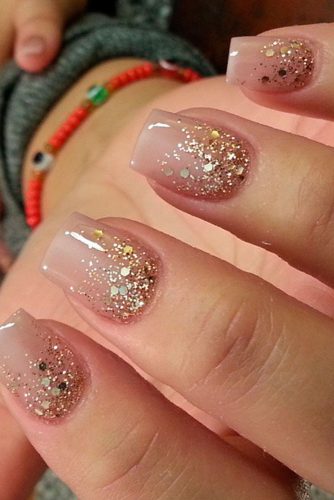 #5. Pink and Mauve Nails
For a more girly mani, try this pink and mauve nail design. The beautiful artwork is delicate and feminine, and is fairly easy to replicate. If you don't have an artistic hand, head over to your local nail salon and have them replicate it for you!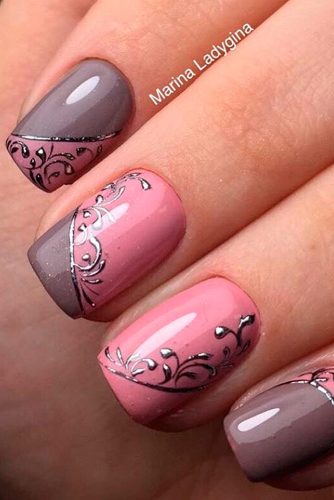 #6. Matte Pink With Accent Nails
Everyone loves a good matte nail, and this pink nail art takes the cake! A thin, gold line puts this nail art design above the rest! Be sure to invest in a good quality matte nail polish such as Born Pretty Nail Art Matte Polish to pull this design off!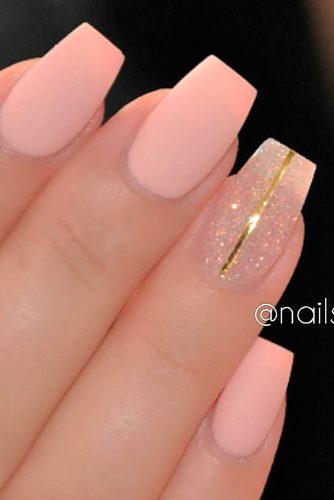 #7. Dark Pink With Sparkles
These frosted nails look absolutely gorgeous and can be worn all year round! Purchase chunky nail glitter to pull off this pink nail art design.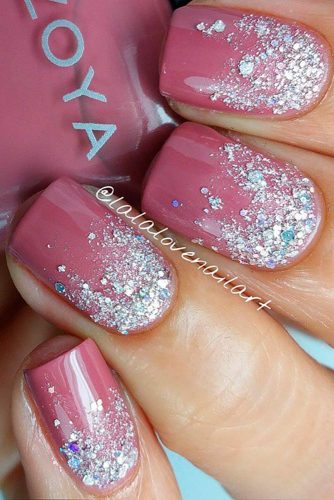 #8. Confetti Glitter Pink Nails
These pink confetti nails scream "IT'S MY BIRTHDAY!", and your nails don't have to be this shape or this length to pull this off! A good confetti nail polish is all you need coupled with a shiny top coat.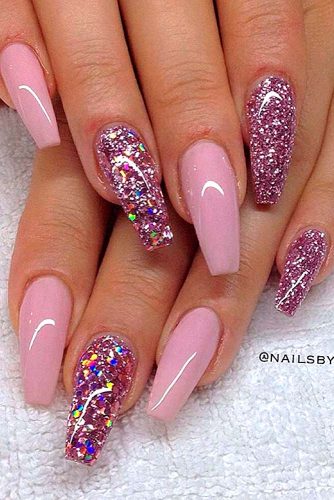 #9. Mirrored Pink Nails
These two shades of pink go beautifully together, but the pink chrome polish is what really sets it apart from the others. Add a few little pearl accents and this nail look is complete!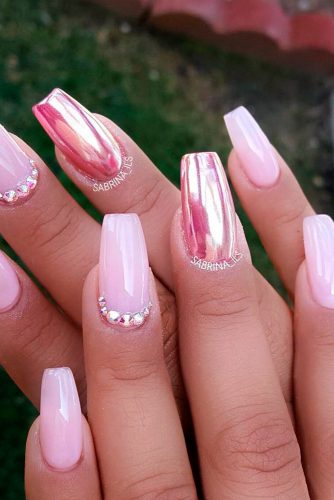 #10. Black and Pink Nails
Black and pink make an amazing duo, and this particular design is easy to recreate! Simply dip a toothpick into black nail polish and swipe across the nails, letting your inner artist come out.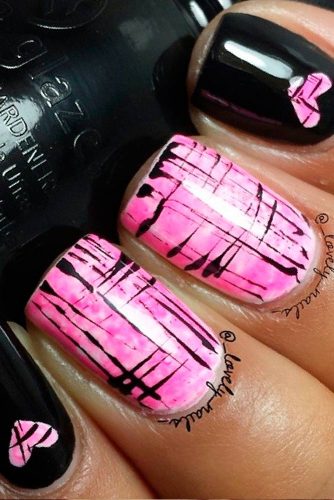 #11. Pink and Silver Glitter Nails
Another chevron nail design, these pink and silver nails are the perfect accompaniment to a glamorous part! The thick layer of silver glitter polish makes this mani totally stand out!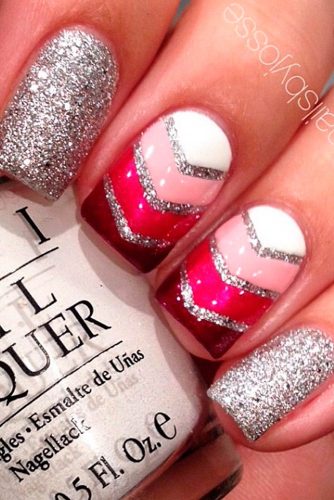 #12. Pink Polka Dot Nails
A super playful spin on these pink nail designs, these pink and polka dotted nails are just what every girl needs in her life! Get creative and come up with your own version!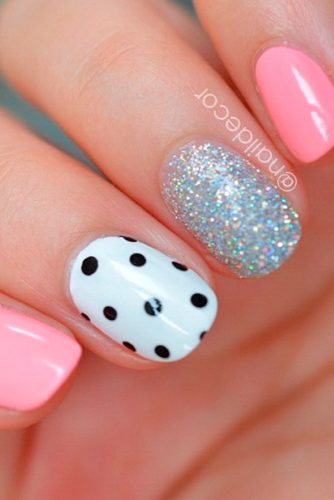 #13. Pink and Black Splatter Nails
Splatter nails are some of the funnest nail designs you can make because you can get really creative with both the colors and the designs. Use matte nail polish to make this pink mani stand out.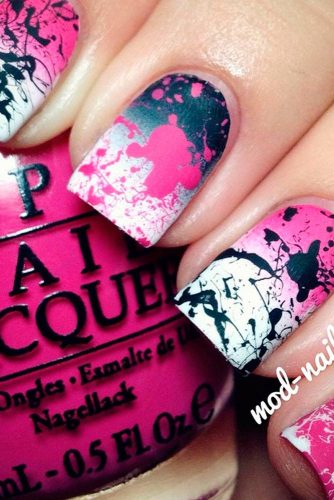 #14. Printed Pink Nails
This contemporary printed nail design may not be feasible to do by hand, but all you need are some nail stickers and you're good to go. Or, head to your local nail salon and they'll be more than happy to replicate it for you!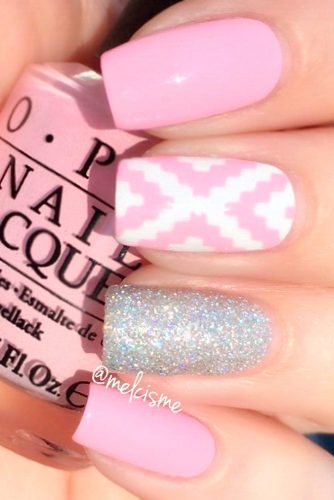 #15. Pink and White Zig Zag Nails
A white base coat topped with a pink zig zag print will bring out the child in you in a heart beat! Fun to recreate and even funner to wear.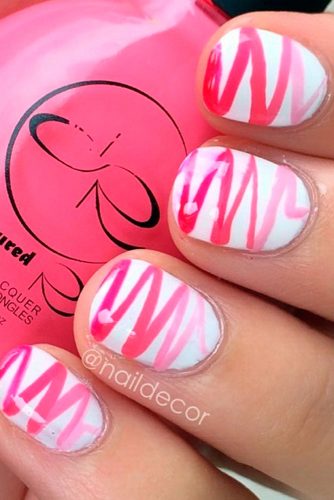 #16. Pink Heart Nails
Reminiscent of the Queen of Hearts, this pink and black nail design looks amazing on any nail shape and length.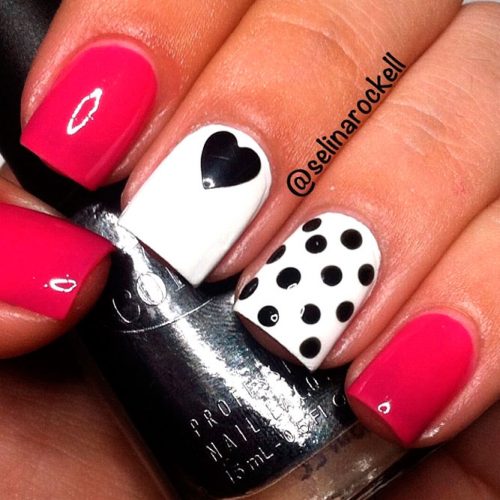 #17. Pink and White Flower Nails
Delicate, feminine, and soft, are the words that come to mind when you see these pink and white nails! Try your hand at this design, or, if you're not artistically inclined, head on over to your nail salon!
If you liked this post, don't forget to share 🙂
Images Courtesy Of: Glaminati
Looking for more nail art designs?
Nail Art Tutorials to Rock This Summer
20+ Nail Art Ideas To Copy
25+ Rainbow Nail Art Ideas
30 Summer Nail Designs You Can Copy
14 Gorgeous Spring Nail Colors