Last Updated on
Learn how to make your own Lush Ocean Salt scrub recipe with this easy to follow salt scrub tutorial. 
Lush Cosmetics is one of my all-time favorite beauty brands, and it's simply because of their simple, uncomplicated ingredients. They're organic, natural, and you can actually pronounce the ingredients! But best, of all, they do not test on animals! This tutorial will show you how to make your OWN Lush Ocean Salt scrub, because let's face it, we've got bills to pay! This DIY Lush Ocean Salt Scrub is easy to make and WON'T break the bank!
Made with all natural ingredients, this Lush Ocean Salt Scrub is super easy to make, and won't irritate skin. It's great for all skin types, but especially good for those with oily skin and acne prone skin. It gently exfoliates the skin, getting rid of dead skin cells and replenishing moisture all at once. Use once or twice a week to get smooth, glowing skin.
DIY Lush Ocean Salt Scrub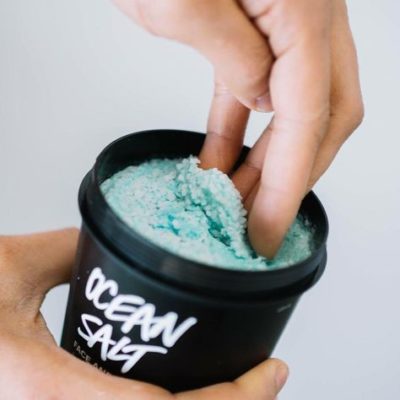 This recipe should last you about a month with regular exfoliation, but if you'd like to make more, or less, you can adjust the recipe accordingly. Make sure to keep in the fridge as it will last longer!
Ingredients:
2 tbsp coarse sea salt (for those with sensitive skin, use a finer sea salt as to not irritate the skin)
1/2 tsp coconut milk
1/2 lemon juice (use freshly squeezed and organic)
1 ripe avocado
1 tbsp vodka
blue dye (optional – to give it that blue azure color!)
Directions:
Mash the avocado until it becomes creamy and free of lumps. Use a food processor to make it very smooth. To that, add the rest of the ingredients and mix well. If you'd like, you can add more sea salt depending on how you like your scrub! Pour the mixture into a mason jar and store in the fridge.
It's as easy as that! This scrub smells amazing and it's so cheap to make! The vodka acts as a preservative, but even so, this scrub won't keep for too long because it does contain avocado which we all know can go quickly! Because of this, we recommend you only make a small batch at a time (preferably every time you use the scrub).
Using The Salt Scrub:
While in the shower, grab a handful of the scrub and either use your hands or a washcloth to massage into the skin. Do this in slow, circular motions as not to rip the skin. Be gentle on more sensitive areas such as chest and stomach, and a little rougher on rough areas such as knees, elbows, and shoulders. Rinse off completely, and pat dry.
Use no more than twice a week to get rid of dead skin cells and leave skin silky soft.
Did you enjoy this post? If so, why not share the beauty knowledge? 🙂
Looking for more Lush inspire recipes? Check these out!
DIY Lush Solid Body Butter Recipe
How to Make Your Own Lush Cosmetic Warrior Face Mask
DIY Lush Shower Jellies Recipe
Lush Inspired Sea Shower Scrub
DIY Sacred Truth Lush Face Mask