This ultra nourishing, pore minimizing, skin tightening avocado egg white face mask is SO easy to make and will give way better results than ANY store bought face mask! Made entirely of natural ingredients, this homemade avocado egg white face mask can be whipped up in minutes and is a super fun DIY project to make during a girls night in or even with your kids. Gentle enough for even the most sensitive of skins, this DIY face mask will replenish moisture, tighten loose, saggy skin, and shrink pores!
Avocado Egg White Face Mask Recipe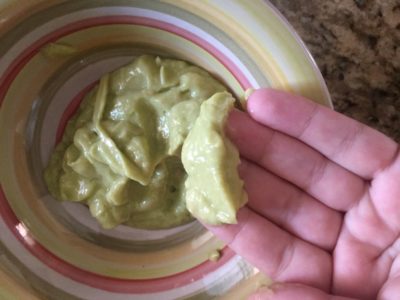 You'll Need:
1 ripe avocado
1 egg white
1 tsp lemon juice OR 1/2 tsp organic apple cider vinegar
Directions:
Pit and mash a ripe avocado until a smooth paste forms.
You can even place all ingredients in a blender or food processor to make a nice, smooth, easy to apply paste.
Or you can just mash the avocado and mix in the rest of the ingredients.
Apply the mask to a cleansed face, and lay back and relax for about 20 minutes.
Please keep in mind that this mask is a little messy, so we recommend you just lay down and listen to some music while the mask does its magic! Think of it as a little R&R for yourself!
Wash the mask off with lukewarm water and pat dry.
Follow up with a homemade toner if you have oily/acne prone skin, and a light moisturizer.
To keep wrinkles at bay, shrink pores, and keep the skin nice and moisturized, make this mask twice a week!
Like this post? Share and Pin 🙂